Harry Vatiliotis loves to work with his hands.
When he left school at the age of 12, he went to work for a blacksmith in his small village in Cyprus. The blacksmith was also called on to work as a mechanic and gun smith and so passed on a breadth of skills to Vatiliotis.
After migrating to Australia with his family in 1952, his father urged Vatiliotis to take a train-making apprenticeship at the Eveleigh Railway Workshops. It was there that he impressed one of his supervisors with his woodwork skills. That supervisor introduced him to violin maker Arthur Edward Smith who ran a repair shop in Hunter Street, Sydney.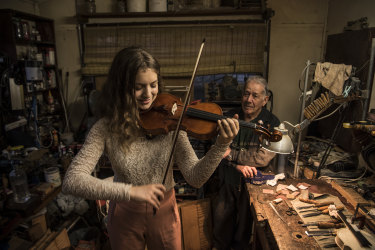 Vatiliotis started work as a violin repairer at A. E. Smith & Co. Ltd in 1953 and remained until 1969, while making violins for teachers and their pupils from his home.
At the age of 82, Vatiliotis, who still makes 18 to 20 violins a year from his small workshop at his Concord home, thinks it might be time to start slowing down.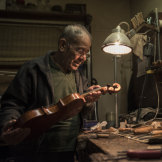 The thought of retirement is too much.
Instead, Vatiliotis thinks he will make three violins a year after he finishes one last large batch next year. New violin bodies and scrolls are already laid out on his workshop table.
"I'm working on seven violins at the moment," he says. "It's really hard to let go. But I must try."
His many customers over the years include Cedar Newman, 15, from Wollongong, who is studying violin in New York as a recipient of the Bambeger Memorial Scholarship at Manhattan School of Music. She fits her school work around her violin playing and also hopes to study law. She started playing violin on her grandmother Simone Merry's instrument, which Vatiliotis instantly recognised when it was brought to him for a repair. Last year, Vatiliotis made Cedar a new violin, better suited to playing concertos.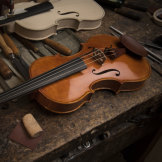 Cedar's mother Felicity Woodhill said a violin made by Vatiliotis was always "part gift" because he often lowered his prices depending on how well a pupil played for him.
"He makes violins to suit the individual person and is very much into helping young players," she says. "He's not a business businessman."
Vatiliotis routinely charges less than a fifth of the average price of a violin, despite providing superior quality. He would rather make 20 a year instead of "flogging off one or two every year" for about $15,000 each.
"I've made a good living out of it," he says. "I wouldn't enjoy making just two a year."
Over the years, Vatiliotis has transferred his skills to crafting clocks, jewellery and the tools needed to make them. After he left his violin repair job, he worked for an engineering company making metal gears and tools, including drills used for mining. But he never stopped making violins and cellos from home.
He loves passing on his craftsmanship to others, often for little or no charge. His pupils include Lyn Hungerford who later moved to Italy where she became internationally known for her fine craftsmanship.
"I want to pass my skills on to other people," Vatiliotis says.