Bangkok: Hakeem al-Araibi has made a desperate plea for freedom ahead of his extradition hearing in Thailand.
"Please don't send me back to Bahrain, they will torture me," Araibi said as he was briskly walked past a large contingent of international media outside a Bangkok court on Monday, his legs shackled and feet bare.
Bahrain formally submitted its request last week to extradite the Bahrain-born footballer, who has been granted refugee status by Australia and who plays soccer for Melbourne's Pascoe Vale FC.
Former Socceroo Craig Foster, who has been campaigning for Araibi to be freed, said ahead of the hearing on Monday that international club and country football matches should be suspended in Thailand until Araibi was freed.
"No footballer is safe," Foster said, adding that football sanctions should be imposed on Thailand and Bahrain.
"How can FIFA say that you can continue to host matches here?"
Foster added that the Thai Prime Minister had the power to release Araibi immediately and should do so.
"When it comes to potential sanctions, we believe the first step would be an inability to host international games in Thailand"
"If the country can't guarantee the safety of a footballer ... clearly the ability to host matches inside Thailand is compromised."
"Please, General Prayut, let Hakeem go".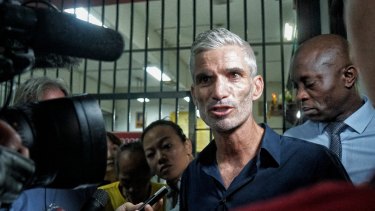 Fellow former Socceroo Francis Awaritefe, who is now the vice president of Fifpro, the players' union, said the Australian government had done a good job so far on Araibi's behalf, but more needed to be done.
"Hakeem should be returned [to Australia], he does have refugee protection ... and Thailand does have obligations under United Nations conventions against torture."
Araibi's detention has drawn growing international media attention as well as criticism from FIFA, the Asian Football Confederation and the international Olympic Committee.
Bahrain claims the now 25-year-old footballer vandalised a police station back in 2012.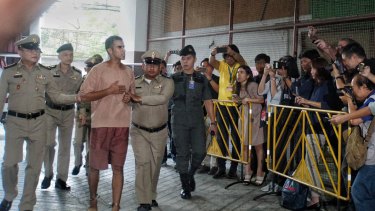 Araibi was convicted of this crime but his supporters point out that he was playing in a nationally-televised football match for his club side until about 20 minutes before the alleged crime occurred.
They argue that Araibi has been targeted by Bahrain because of his public criticism of Sheikh Salman, a member of Bahrain's royal family who sought but missed out on the FIFA presidency in 2016.
In an interview with The Sydney Morning Herald and The Age last week, Araibi pleaded with Australian authorities to keep fighting for his release and said he feared torture, or even being killed, if he is sent back to Bahrain.
Prime Minister Scott Morrison has written directly to Thai Prime Minister Prayut Chan-O-cha seeking Araibi's release.
Australia's acting ambassador Allan McKinnon, representatives from other foreign embassies and a FIFA official were all due to attend the hearing on Monday.
Araibi was detained in Thailand when he arrived for a one week honeymoon after an Interpol Red Notice was incorrectly issued for his arrest.
Refugees are not supposed to be subject to Red Notices, which are a form of international arrest warrant, from the country from which they have fled.
The notice was subsequently withdrawn but Araibi remains in a Bangkok prison as Bahrain seeks to extradite him.