Rugby Australia has confirmed the appointment of dual international Michael O'Connor as a third Wallabies selector alongside Michael Cheika and Scott Johnson.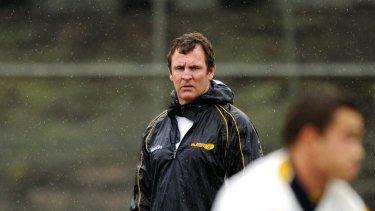 As part of a shake-up to the high performance program flagged in December, O'Connor, who played both rugby and rugby league for Australia, said it would be a "huge honour" to sit on a three-man selection panel during a World Cup year.
"I've gained a lot of different perspectives in over 20 years of involvement in rugby at a local, national and international level and I feel privileged to be able to take on this role as a national selector," O'Connor said in a statement. "I've got a great passion for the Wallabies and I'm not taking this opportunity lightly. It's a huge honour."
O'Connor coached the Australian men's sevens team from 2008 to 2014 and was a Wallabies selector before that in 2006 and 2007 when Johnson was an assistant coach.
He chalked up 12 Tests for the Wallabies between 1979 and 1982 and also carved out a terrific rugby league career with St George, Manly, NSW and Australia.
The 58-year-old will begin the role on March 21 and will be based on the Sunshine Coast for the time being.
At this stage, O'Connor won't tour with the Wallabies but Johnson, who comes on board as director of rugby once his commitments with Scotland finish in late March, could change that.
One would expect O'Connor to be in Japan ahead of the Wallabies' first World Cup pool match on September 21 against Fiji in Sapporo.
RA chief executive Raelene Castle said: "We interviewed a number of quality candidates for the role and it was Michael's approach and philosophy around selection that really stood out.
"He brings to the table immense experience in talent identification as well as the perspective of having played at the highest levels and coached at international level and has performed a similar role for the Wallabies in the past.
"We believe Michael's skills will complement the skills of both Michael Cheika and Scott Johnson and create a very open and challenging selection environment in an important year for the Wallabies."
O'Connor has not worked with Cheika before but said he had a "very good understanding of how he likes his team to play".
"The most important thing in this role is understanding what the head coach is looking for, the way he wants to play and then finding the players that fit into that framework and having that discussion," he said.