Former Commonwealth Games decathlete Jake Stein is set to be handed his AFL debut for Greater Western Sydney in Sunday's clash with North Melbourne in Hobart.
Coach Leon Cameron confirmed on Thursday that Stein, 25, will play his first senior game for the Giants this weekend, nearly three years after making the switch from athletics to football.
Stein joined GWS as a Category B rookie at the end of 2016 and last season won the club's NEAFL development award. The Penrith product, who is 195cm tall, has been moulded into a defender and looms as a like-for-like replacement for the injured Nick Haynes (ankle).
"His development has been phenomenal," Cameron said. "Jake's got a really big motor, he's got elite speed and he's really worked on the nuances of the game to learn about body positioning and spoiling. We're rapt and there was a huge roar when we told the group."
Stein represented Australia in the decathlon at the 2014 Commonwealth Games in Glasgow but false-started twice in the 100m sprint and was disqualified. Prior to that, he was crowned world youth champion in the octathlon in 2011.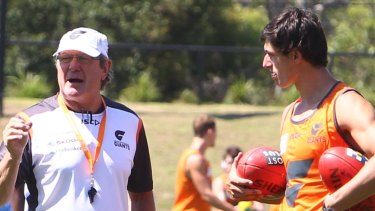 Stein grew up playing soccer and idolised Harry Kewell as a kid before deciding to focus on athletics.
His running coach in the lead-up to his gold medal victory in 2011 was John Quinn, who later became the Giants' inaugural high performance manager and was the conduit for his move into the AFL world.
After two-and-a-half seasons toiling away in the state league, Stein's big opportunity has finally arrived.