If ever Charles Dickens wanted to update Bleak House and his tale of the ruinous legal fight of Jarndyce v Jarndyce, the famous Evatt family might provide some inspiration.
Easter might be awkward for the Evatts after a nasty spat over the ownership of the Blue Mountains mansion and toy museum, Leuralla. NSW Supreme Court documents reveal the family, sisters and children of the late defamation lawyer and art dealer Clive Evatt are embroiled in a series of claims and cross-claims concerning the art-deco mansion and museum purchased by former NSW Labor Minister Clive Evatt Snr from his wealthy in-laws in 1955.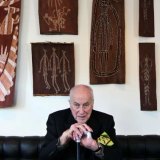 In 1974 Evatt Sr made his three children – pioneering Family Court judge Elizabeth A. Evatt, lawyer Clive Jnr and architect Penelope Seidler – beneficiaries of the property. Seidler and her architect husband Harry Seidler initially acted as trustees. In 1984, Clive Jr's son Victor Evatt – from his first marriage to Susan Hepburn – became the trustee.
Fast forward to 2011 when the siblings drew up a deed of succession which stipulated that Clive Jnr's second wife Elizabeth M. Evatt would have sole occupancy of the property during her lifetime. Clive Jnr made provisions for his sisters' share of the property to transfer to his broader estate after they passed away.
Then it became a mess. Clive Jnr had seven children from two marriages, including the trustee Victor. But Clive Jnr himself died in 2017. Soon after, a caveat was slapped on the property stopping any sale or any other potential changes of ownership. That triggered a raft of legal actions between family members over two generations. And then last month a settlement deal was reached and consent orders dismissed all the claims, cross claims and removed the caveat. Could Easter be saved yet? Lawyers for the parties declined to comment.
CASHING IN
Congratulations to Harper Collins, which has landed a $112,000 contract to compile a book for the Department of Prime Minister and Cabinet. The National Bushfire Recovery Agency, which is run from PMC, has contracted the publisher to produce a tome that tells the stories of communities affected by the 2019-20 summer bushfires. And here we were thinking the ABC had already done that with its book Black Summer: Stories of loss, courage and community from the 2019-20 bushfires, edited by ABC News Breakfast presenter Michael Rowland. That book was published by, yes, HarperCollins.
We should point out that HarperCollins is owned by Rupert Murdoch's News Corporation, whose newspapers' coverage of Black Summer was the subject of considerable controversy. The company's own commercial finance manager Emily Townsend wrote in a stinging all-staff email that the company's papers, which include the Herald Sun and The Australian, had waged a "misinformation campaign" to divert attention away from "the real issue of climate change" to instead focus on arson. It turned out that Townsend had already resigned a month before she wrote her blistering dispatch to executive chairman Michael Miller. So, maybe she's free to edit HarperCollins' new book. If the NBRA description is anything to go by, it should be an inspiring read. "It will be a dedication to the people who survived and sadly those who didn't and testament to the resilient Australian spirit which saw communities coming together to support and help each other," a spokesperson said. HarperCollins will provide the NBRA with 5000 copies (that's already a bestseller in Aussie publishing terms) to give free to local schools, libraries and community organisations in bushfire-affected communities.
REVOLVING DOOR
Former ABC reporter Ben Worsley has already picked up a new gig just two Fridays after he walked away from his media and government relations gig with Rex Airlines. The silver fox is off to the NSW Department of Education's media team.
It's hardly surprising considering the hiring spree department secretary (and former ABC managing director) Mark Scott has been on. Last year, he picked up Aunty's NSW investigations reporter Greg Miskelly. In January, he poached former Herald editor Darren Goodsir from the University of NSW to become an executive director of engagement and communications – a title so lofty it just screams "highly paid". Was it the pay that prompted Worsley to ditch Rex after nearly four months and just weeks out from Rex's long-awaited launch into Sydney-to-Melbourne and other capital city routes? He wasn't prepared to tell us.
PACKED SCHEDULE
Some might call first-term MPs just that, but the Liberal Party's fundraising machine, otherwise known as the Australian Business Network, has anointed these newest kids on the parliamentary block "Rising Stars".
That's how the ABN promoted a Tuesday evening event in Parliament House that promises donors the chance to meet an extensive list of first-term Liberal MPs including South Australian James Stevens, NSW Senator Hollie Hughes, Wentworth MP Dave Sharma, Julie Bishop's successor in Curtin Celia Hammond and others. The drinks and nibbles was sponsored by CMAX Advisory, the consultancy set up by former Labor staffer Christian Taubenschlag, who was a deputy chief of staff to former defence minister Joel Fitzgibbon before launching his consultancy which specialises in … defence.
On Thursday, it's the NSW Liberals' turn with Premier Gladys Berejiklian and Treasurer Dominic Perrottet headlining a "Welcome to 2021" dinner for the party's NSW faithful. The event promises guests an opportunity to "hear their plans as the NSW economy continues to pick up momentum. Learn how the road to recovery will impact you." Can't wait.
Start your day informed
Our Morning Edition newsletter is a curated guide to the most important and interesting stories, analysis and insights. Sign up here.