European stocks started the week on the front foot, largely ignoring a mixed picture across Asia and drifting U.S. futures as a brutal month nears its end. The euro dropped after reports German Chancellor Angela Merkel won't run to be head of her party again.
The Stoxx Europe 600 Index rose for the second time in three days, led by banks after earnings for HSBC Holdings Plc beat expectations. S&P 500 futures edged up after the main U.S. gauge finished Friday just short of a 10 percent decline from its record September high and on pace for the worst month since 2009. Shares in Tokyo ended down after rising more than 1 percent at one stage, while declines accelerated in China and South Korea as the day wore on. Hong Kong shares climbed alongside those in Australia and India.
The euro turned lower following reports that Merkel will quit as head of her Christian Democratic party after nearly two decades. The news comes in the wake of the governing parties' worst results in decades in a regional election. Italian debt rallied after S&P Global Ratings on Friday affirmed the nation's rating at BBB and lowered the outlook to negative from stable. Most European bonds drifted as Treasuries extended a gain from last week. The dollar jumped while gold dropped. Oil fell to about $67 a barrel as traders assessed mixed supply signals.

Equities globally have lost almost $8 trillion of value this month, set for the biggest wipeout since the height of the financial crisis a decade ago on concerns ranging from peak earnings growth and the U.S.-China trade war to the end of easy money and rising rates. Traders are paring wagers for more Federal Reserve hikes for next year, with markets now expecting fewer than two quarter-point increases in 2019, compared with three projected by policy makers.
"There's room for a bit of a downside to go, because I do see this as being largely a structural shift in markets," Kyle Rodda, a market analyst at IG Group in Melbourne, said on Bloomberg Television. "Sentiment is still to the downside, is still quite bearish and there will be a little while for this correction to play out."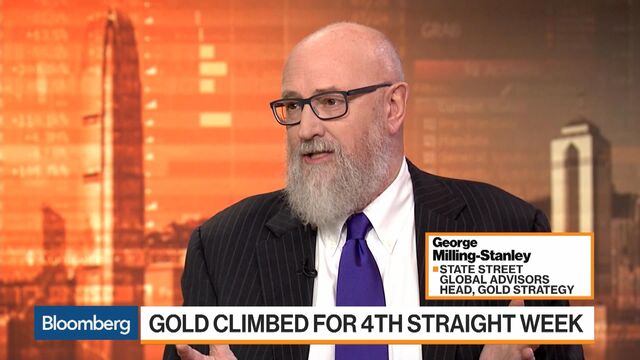 Elsewhere, a Brazilian equity exchange-traded fund listed in Japan jumped after far-right candidate Jair Bolsonaro won the presidential election. Mexico's peso slumped more than 1 percent after a vote to scrap a $13 billion airport.
Terminal users can read our Markets Live blog.
Here are some key events coming up this week:
Highlights from earnings season will include: Facebook, Komatsu, Ping An Insurance, PetroChina, Macquarie, Apple, Alibaba, China Telecom, Fanuc, GE, Airbus, Credit Suisse, Exxon Mobil, Shell and BP.
Monetary policy decisions are due in Japan and the U.K.
On Friday, the final U.S. jobs report before the November midterm elections may show hiring improved as payrolls rose about 190,000, and the unemployment rate held at a 48-year low of 3.7 percent, analysts forecast.
And these are the main moves in markets:
Stocks
Futures on the S&P 500 Index advanced 0.1 percent as of 9:30 a.m. London time.
The Stoxx Europe 600 Index jumped 0.7 percent, the biggest increase in almost two weeks.
The U.K.'s FTSE 100 Index jumped 0.9 percent, the largest climb in more than five weeks.
Germany's DAX Index gained 0.5 percent.
The MSCI Asia Pacific Index dipped 0.2 percent, hitting the lowest in more than 18 months with its fifth consecutive decline.
The MSCI Emerging Market Index climbed 0.1 percent, the first advance in a week.
Currencies
The Bloomberg Dollar Spot Index gained 0.3 percent to the highest in 17 months.
The euro dipped 0.2 percent to $1.1376.
The British pound fell 0.1 percent to $1.2816, the weakest in more than two months.
The Japanese yen decreased 0.1 percent to 112.06 per dollar.
Bonds
The yield on 10-year Treasuries dipped one basis point to 3.07 percent, the lowest in almost four weeks.
Germany's 10-year yield increased one basis point to 0.36 percent, the biggest climb in more than a week.
Britain's 10-year yield advanced less than one basis point to 1.385 percent, the first advance in more than a week.
The spread of Italy's 10-year bonds over Germany's declined 11 basis points to 2.9794 percentage points to the smallest premium in almost two weeks.
Commodities
West Texas Intermediate crude decreased 0.8 percent to $67.06 a barrel.
Gold fell 0.4 percent to $1,228.77 an ounce, the weakest in a week on the biggest fall in a week.
— With assistance by Andreea Papuc, and Adam Haigh