A large fire has engulfed a factory in Sydney's south, causing delay to commuters driving home from the city during peak hour.
Fire NSW received a call about 5.30pm on Friday and fighters from Miranda Fire Station were at the scene at Alexander Avenue at Taren Point within six minutes.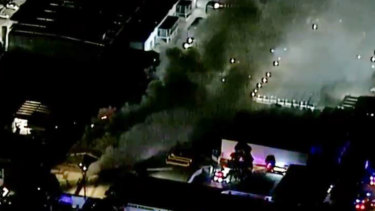 Eighty-five firefighters are currently on the scene, attempting to extinguish the fire engulfing the three level building.
A Fire NSW spokesman said it was a "massive job" with the whole building engaged and would take hours to put out.
He said the factory is used as a recycled cardboard outlet.
No people have been reported to be in the building but firefighters will conduct a full search and rescue when the blaze is contained.
The spokesman said the number of vehicles present could create heavy traffic for commuters returning south from the city via Captain Cook bridge.
More to come