The book Scott Morrison was waving about at the National Press Club should be enthralling bedtime reading ("Recipe in print for scare campaign", February 12).
Will we voters get a copy in the mail? Will it be filed under fact or fiction in local libraries? Can we use it to scare the kiddies? At the very least, it looks to be the right size to wedge under rocky table legs or swat a troublesome insect. Thank you, Prime Minister. We appreciate your concern for us. Just hope we didn't pay for it. - Nola Tucker, Kiama
The Liberal Party reveres John Howard for winning the unwinnable election of 2001. How on earth did he pull off this trick on the Australian people? By scaring us about the phoney children overboard and Tampa issues. Almost two decades on, another desperate Liberal leader is doing his utmost to "scare the hell out of us" .
The problem for the Prime Minister is that the Australians are now more informed and have accepted the science of climate change. From city residents to farmers, the majority now understands the dire threat posed to humanity and the natural world we all share by the excessive heating of the environment.
Your scary bogeymen list pales in comparison with the radical climate change your government refuses to come to grips with, PM. None of the rest will matter one iota. - Sue Lubbers, Killara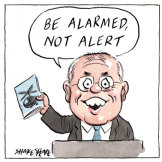 I was puzzled about Morrison's "passionate plan" to save us from the fire and brimstone that would surely harm us if the Coalition did not win the next election. Passionate? Synonyms from the dictionary include feverish, fiery, emotional. Maybe the PM should take a chill pill and make a plan that is considered, analysed and effective. - Marie Belcredi, Epping
Morrison tells the National Press Club how he makes decisions for the nation: "You make these decisions on the basis of your values, instincts, experience and, when required, courage". No mention of evidence and expert advice – which explains a lot. - Richard Horsley, Alexandria
I'm not "pumped" about the Prime Minister's plan to "make Australians safe". None of the scary things listed in his Press Club address scare me as much as he and his hollow men.
In vain, I listened for the scariest elephant in the room – climate change. The closest we got was "natural disasters" – but these highly unnatural extreme disasters sweeping our island home from north to south are the symptom, not the cause.
The federal election is our best opportunity to clean these frauds out of Parliament and install representatives who respect science. There is no economy if there's no environment. - Sue Young, Bensville
PM Morrison was at his most unimpressive self, attempting to scare the bejeebers out of us at the National Press Club. His rhetoric went from comical to farcical. There was no attempt to be factual or even plausible. Morrison's bizarre presentation was enough to scare anyone into voting for a Shorten Labor government. - Graham Lum, North Rocks
I'm sure I still have my "be alert, not alarmed' refrigerator magnet somewhere. But I'm not quite sure who to use it for anymore. - Janice Creenaune, Austinmer
Bugged by clear drop in insect numbers on long drive
Having just returned from my third round trip from Sydney to the Northern Tablelands since September 2018, I noticed again the almost complete lack of insects appearing in the headlights and flattened on the windscreen ("'Disappearing': great bug extinction taking place under our noses", February 12).
Part of each round trip of more than 1100 kilometres was made at night when, just a few decades ago, part of each break in the driving would have been taken up cleaning the bodies of unfortunate insects off the windscreen and even off the headlights.
The decline in insect numbers has been increasingly noticeable but now, in at least some areas, the numbers appear to be zero. Searching for more benign explanations than collapsing populations which may be vital to the biosphere I can only come up with the improved aerodynamic design of vehicles, which certainly is not sufficient reason for not seeing them in the headlights.
Meanwhile, the insecticide manufacturers are flourishing in Australia apparently unchecked by the controls which are common in other countries. We should at least apply the Precautionary Principle to insecticides and ban or limit the use of them or risk losing some vital insects altogether and with them an important part of our biosphere. - Penny Rosier, North Epping
The great insect extinction is a symptom of a very large problem: the dependence of the now enormous human population on "quick-fix" agriculture that uses enormous amounts of pesticides and fertilisers to produce food, but at the same time destroys the long-term productivity of the soils themselves and the natural ecosystem services that we rely on to maintain our life-support systems.
A critical priority for Australia now is to retrain and resource all Australian farmers to make the critical transformation away from the industrial strip mining of soils that is current practice in so much of Australia. - Richard Cassels, Narara
It's only 57 years since Rachel Carson published Silent Spring. For goodness sake, give us enough time to understand the consequences of pesticides and intense farming. We can't just up and do something about it immediately. - Robert Hosking, Paddington
Talking about bug extermination, I didn't see one Christmas beetle in December. - John Synnott, Enmore
September through January come and gone, no bogongs and cicadas silent. Hungry birds on balcony. - Tony Burton, Kirribilli
Refugees used as political football
We can all celebrate the release of refugee Hakeem al-Araibi after a long incarceration in Bangkok and his safe return to family and friends ("Free to come home", February 12). This outcome is the culmination of amazing and sustained contributions in an amazing campaign led by former Australian international footballer Craig Foster. This action involved thousands of people in the football community of Australia and around the world, including many people in Thailand.
However, such success needs to be tempered by the reality that human rights and the treatment of refugees and asylum seekers in Thailand and Australia falls well short of standards the nation can feel proud of. - Pablo Bateson, Katoomba
The safe return of Hakeem is fabulous. I spare a thought for the countless lesser-known, ordinary people who find themselves in the same situation with no influential people campaigning for their release. - Rosie Elsass, Brighton
I hope there is an investigation into our immigration practices and links with foreign policing, as al-Araibi is not the first young Australian to have his life put at risk by agencies that should be designed to keep Australians safe. - Catherine Hoskin, Gloucester
Let's acknowledge the incredible care, concern, groundwork and doggedness of Craig Foster in securing the release of al-Araibi. Without his efforts, he would still be languishing in jail. - Philippa Harvey, Newtown
Well done, Craig Foster. You get my vote for the next Australian of the Year. - Stephen Lesslie, South Bowenfels
Horror stories true
Most of us will have read on social media claims of the abuse and neglect of refugees on Manus and Nauru and been a little cynical. Surely these well-intentioned people are exaggerating a little ("Refugees in PNG suffer from 'untreated' injuries five years after Manus Island riots", February 12)?
The minister and his right-wing media spokespeople have constantly denied the claims. But now, the full horror of what Peter Dutton and Scott Morrison have been doing to human beings is unfolding
It also turns out the government had a secret Transitory Persons Committee to prevent refugees being treated. One method used is to simply stop reporting on cases because that data may be used later in an inquiry against the Department of Home Affairs.
Thank God, literally, for Labor, the independents and Greens for taking a stand on the human rights of these people at last. - Shayne Chester, Potts Point
​Who do you trust: a doctor or a politician ("Labor's refugee bill to test PM's power", February 12)? - Con Vaitsas, Ashbury
Spotlight on night
I wonder how much of the $16 billion that Deloitte Access Economics predicts would flow from a more active night-time economy would simply be a transfer of spending that currently occurs during daylight hours ("City that always sleeps is costing us $16 billion'', February 12). - Norm Neill, Darlinghurst
Is the call for Sydney to further develop our night-time economy based on any other motivation than it is always good to make more money?
Surely this call needs to be put at the service of the social and welfare needs of our citizens. I hope decision makers keep this in mind. - Paul Meagher, Wahroonga
Wake up to yourself, Sydney! - John Phillip Cook, Forde (ACT)
Put policies on track
There are other low-cost, vote-winning transport policies that Labor could adopt which, out of sheer bloody-mindedness, the present government refuses to consider ("Election clash on east-west rail line", February 12).
Paper-based timetables for the (older) 20 per cent of travellers who can remember when you didn't have to waste time consulting the internet before using public transport; clear windows on our buses, while retaining the revenue-generating advertisements, and reversible rather than fixed seating on at least one deck of our new intercity trains. - Kevin Eadie, Drummoyne
Wherever the trains may be headed, both government and opposition seem committed to the idea that crowded standing should be the new norm. A Sydney Metro carriage is meant to fit up to 183 people but has only 63 seats, with more people standing in a single-deck carriage than the total seating capacity of 112 in a double-decker carriage.
Not just on short trips, but to Rouse Hill, Bankstown and maybe beyond. We may be getting a technologically advanced metro, but those of us old enough to recall the overcrowded single-deck red rattlers will find the promised travelling conditions decidedly retro. - Doug Walker, Baulkham Hills
Same old story
Barnaby Joyce writes that Australians need books published from 'the Left and the Right', stories about the power from more and lesser privileged parts of the country ("Australian stories must be told by us", February 12) . However, I note in his article he manages to avoid mention of any woman or Indigenous person. I think that says it all. - Warren McPherson, Gerringong​
Own goal by FFA
The time has come for those players, staff and officials who support Alen Stajcic to put their hands up ("'I was terminated without a cause': Stajcic lets fly at FFA", February 12).
The FFA has nowhere to hide on its flawed decision to sack Australia's best women's coach.
The "new" board of Football Federation Australia has displayed its inability to be fair and transparent. In a crucial time for Australia's soccer community, its new administration has floundered . - David Goldstein, Balgowlah
It is hard to believe that Cricket Australia could be challenged for incompetence after sandpaper-gate but, with the unexplained sacking of successful Matildas coach Stajcic - just when stability was needed - Football Federation Australia's bid is strong enough to join the ranks of inept, obtuse officialdom. - Ron Sinclair, Bathurst
Healthy appetite
A huge vote of thanks goes to Good Food Guide editor Myffy Rigby for taking a big hit for the team of Herald readers with her staunch devotion to duty that has her eating the most interesting things on menus and not counting the calories ("Health diary of a food critic", February 12).
As they say, someone has to do it.- Col Shephard, Yamba
A word to the wise: Please stop saying it
My nomination is for "perfect" as word of the year, seemingly as a substitute for any affirming response (Letters, February 12). For example: "I'm sorry that I can't find a seat for you on the 11.30am shuttle bus to the airport, but I can get you on the 6.30am service, which means you'll have at least a five-hour wait at the airport". Response: "Perfect". Hardly! - Ian Macdonald, Goonellabah
I nominate the tautological "own"; favoured by many broadcasters, politicians and, dare I say, journalists. For example, criticised by his own party, attacked in his own home...
And don't get me started on "our very own ..." - Grant Heaton, Port Macquarie
"Narrative" is a word that has spread like mould in a bathroom to describe someone's journey or story. And while I'm here, what is it about this new affectation of adding a "shh" sound in words such as "Or-shtralia" and "sh-treet"? - Bill Young, Greenwich
Many interviewees like to begin their reply with "look". But what are we looking at? - Ian Grant, Mount Victoria
Yeah, no. - Richard Weiss, Rushcutters Bay