For a party and candidate insistent that next month's Upper Hunter byelection will not be won or lost over coal, the first day of campaigning by the Nationals in the marginal seat sent a very different message.
Deputy Premier and Nationals leader John Barilaro chose the vast Ravensworth open cut coal mine in Singleton on Thursday as the backdrop to announce the party's newly installed candidate David Layzell.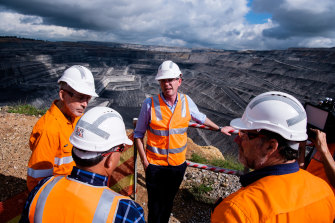 With hard hats and high-vis vests, Mr Barilaro, Mr Layzell and Treasurer Dominic Perrottet kickstarted the Coalition's campaign with a message that the Upper Hunter should back the government on its track record over its decade in power.
"I'll ask this community to look at our leadership and the Premier, myself, the Treasurer of this state, how we've led the state through the pandemic, before that the drought, bushfires, and now floods and our economic management," Mr Barilaro said.
However, the trio zeroed in on the coal industry and said it was crucial to the Upper Hunter and the community should not be spooked by comments about its future.
The Upper Hunter has long been the coal capital of NSW and is the electorate with the highest proportion of mining jobs in the state.
Mr Layzell said there was not a "family in the Upper Hunter who [doesn't] either work in the mines or work in one of the great support industries".
"I think there are always going to people who criticise mining but unless you live here you don't understand the importance of working in places like this, where you can work, your daughters can work, your sons can work... they can stay here and raise families," Mr Layzell said.
However, Mr Layzell said the byelection would "not be won and lost on the mining vote".
At the same time, Mr Perrottet stressed that coal remains king in the Upper Hunter.
"There is no better friend of the mining industry than the NSW government," Mr Perrottet said.
Mr Layzell, a construction engineer, emerged as the surprise pick in a preselection on Wednesday night, beating the first female mayor of Singleton Sue Moore, who had been considered the frontrunner.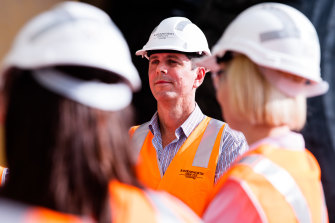 The region is also known for its burgeoning agricultural industry which includes vineyards and horse studs.
Mr Layzell, a 45-year-old father-of-four from Dungog, has been a senior figure in Upper Hunter Nationals' branches and worked closely in helping the former MP Michael Johnsen be elected to parliament.
Mr Johnsen was forced to resign from parliament last month after it emerged he was under police investigation over accusations he raped a sex worker at a secluded lookout. Mr Johnsen has denied the allegation.
"Yes, I have worked quite closely with him [Mr Johnsen]... but the standard that was expected of their representative was not being met and so the government acted, John Barilaro acted and we acted to remove him," Mr Layzell said.
"It was swift".