Latest updates
Macon, Georgia: Last Friday, Democratic vice-presidential nominee Kamala Harris hosted a drive-in rally at Morehouse College, a historically black school.
On Saturday, she visited Cleveland, where she gave a rousing shout-out to Democrats Representative for Ohio, Marcia Fudge, a former Congressional Black Caucus chair.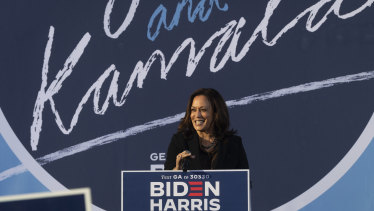 On Sunday, she spoke at the service at the Triumph Church in a Detroit suburb. She also urged people to vote early in a video message just before the Soul of the Nation Gospel Concert.
Harris is pushing hard to get out the black vote, and voters and analysts see evidence that the first woman of colour on a major-party presidential ticket could make a difference in some of the nations' most closely contested swing states.
The California senator, the daughter of Indian and Jamaican immigrants, campaigns before all sorts of constituencies. But she has been appearing frequently recently before groups of black voters who say they appreciate the history they're witnessing.
McClatchy
Donald Trump Jr declared that coronavirus deaths had dropped to "almost nothing," questioning the seriousness of the pandemic on a record-breaking day for new cases in which more than 1000 Americans died of the virus.
Speaking to Fox News host Laura Ingraham on Thursday night (Friday AEDT), Trump Jr pointed to data from the Centres for Disease Control and Prevention that he suggested shows a declining coronavirus death rate.
"I went through the CDC data, because I kept hearing about new infections, but I was like, 'Why aren't they talking about deaths?' " Trump Jr said. "Oh, because the number is almost nothing. Because we've gotten control of this thing, we understand how it works. They have the therapeutics to be able to deal with this."
The Washington Post
A record surge of coronavirus cases in the US is pushing hospitals to the brink of capacity and killing up to 1000 people a day, the latest figures show, with much of the country's attention focused on Tuesday's presidential election.
The country broke its single-day record for new coronavirus infections on Thursday, reporting at least 91,248 new cases, as 17 states reported their highest daily number of hospitalised COVID-19 patients since the pandemic started, according to a Reuters tally of publicly reported data.
More than 1000 people died of the virus on Thursday, marking the third time in October that milestone has been passed in a single day. The number of hospitalised COVID-19 patients has risen over 50 per cent in October to 46,000, the highest since mid-August.
Among the hardest hit states are those most hotly contested in the campaign between Republican President Donald Trump and Democratic challenger Joe Biden, such as Michigan, North Carolina, Ohio, Pennsylvania and Wisconsin.
The surge has revived some of the worst images of the devastating first wave of the virus in March, April and May, with people on ventilators dying alone in hospital isolation and medical staff physically and mentally exhausted.
"Our hospitals cannot keep up with Utah's infection rate. You deserve to understand the dire situation we face," Utah Governor Gary Herbert said on Twitter, echoing officials in other states and public health experts.
Reuters
G'day everyone! It's Roy Ward and I'll be tapping the keys against today for our US election live blog as we hit the precious final days before the election this Wednesday (AEDT).
Today we find US President Donald Trump and former vice-president Joe Biden in the midwest where they are chasing the final undecided voters in pivotal states like Michigan, Wisconsin, Iowa and Minnesota.
All three states could have a big say in who wins the election, along with the always important Pennsylvania and Ohio, so this could prove an important day.
We will have plenty of coverage to come and please don't hesitate to leave a comment on the blog.
Enjoy the day to come.