There are growing signs of slowness in the jobs market, with the national unemployment rate in May holding steady only because of a surge in part-time election workers.
The Australian Bureau of Statistics (ABS) on Thursday reported the jobless rate remained at 5.2 per cent last month.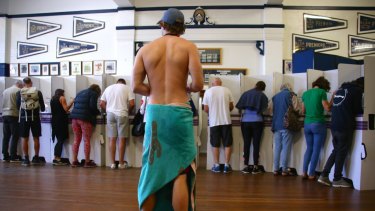 It was steady despite full-time employment increasing by only 2400. Part-time employment, much of which analysts believed was tied to the May federal election, jumped by 39,800.
Despite the lift in overall employment, the number of hours worked by Australians fell by 5.9 million hours, which contributed to an increase in the national under-employment rate to 8.6 per cent.
The under-utilisation rate also increased, hitting a 10-month high of 13.7 per cent. It has now been increasing for the past three months.
The jobless rate was steady in NSW at 4.6 per cent while it edged down in Victoria to the same level.
It lifted in Queensland to 6.2 per cent and in Western Australia to 6.3 per cent, while it fell in South Australia (to 5.7 per cent) and in Tasmania (to 6.4 per cent).
ABS chief economist Bruce Hockman said the participation rate, which measures those in work or looking for it, had increased by 0.4 percentage points over the past year to a record 65.9 per cent.
"The participation rate for people aged 15 to 64 also climbed to a record rate of 78.4 per cent, with a record 74.3 per cent of people in this age group employed," he said.
The report came after SEEK Australia's monthly measure of job listings showed a 6.5 per cent annual drop through May.
Ads were up for areas closely linked to the public sector, with the education sector up by 13.7 per cent over the year while the healthcare sector was up by 7.8 per cent.
But areas associated with the construction sector are in freefall. Ads in design and architecture are down 26.8 per cent, construction job ads were down 21.9 per cent, while those in property and real estates were down 19.7 per cent.
Every state and territory bar the ACT was also in negative territory. Ads in the nation's strongest job market, NSW, were down by 9.9 per cent while in Victoria they were down by 7.5 per cent.
SEEK Australia and New Zealand managing director Kendra Banks said while listings were down this was off a high base after a surge through 2018.
She said compared to May 2017, listings were up 3 per cent.
Ms Banks noted that going forward, those areas closely linked to the public sector would be worth watching.
"As Australian businesses work through the outcomes of the federal election and set their 2020 financial year budgets, it will be interesting to see which industry groups commit to new headcount," she said.
"Our data is showing strong growth across education and training and healthcare and medical sectors, and we will watch these sectors closely as we head into what is traditionally the busiest recruitment period of the year."