If you put much value in consumer surveys, this could be a frugal Christmas.
Each year Westpac asks people whether they plan to spend more or less than they did last year on Christmas gifts, and the 2022 results suggest the public is feeling thrifty. The survey, released earlier this month, found the proportion of people planning to cut their spending on presents was the highest since the global financial crisis.
Then again, it's hard to know what to make of such findings, because for months now, Australian shoppers have been saying one thing in surveys and then doing another at the checkout.
Despite surveys repeatedly showing consumer confidence has plunged to recession levels, retail spending has been almost teflon-like and remained fairly resilient. Retailers expect this trend to continue over this weekend's Black Friday online sales, tipping a record $6.2 billion will be spent in four days as people kick off their Christmas shopping.
This sharp divergence between weak confidence and solid consumer spending has been a striking feature of the economy this year. That households are in good financial shape is also evident in recent strong results from the major banks, and upbeat commentary from Harvey Norman this week.
But a key point of uncertainty is whether the buoyant spending can continue throughout 2023, in the face of interest rate rises and high inflation. Most economists think it can't, and the unusual gap between consumer confidence and actual spending will ultimately close.
That doesn't mean there's a crash in consumer spending on the horizon, more that next year will be when the reality of surging interest rates and inflation catches up with households budgets.
But what will happen to household consumption isn't just some esoteric debate among economists, it matters a lot for our economy, and whether the Reserve Bank may stop raising rates sooner rather than later.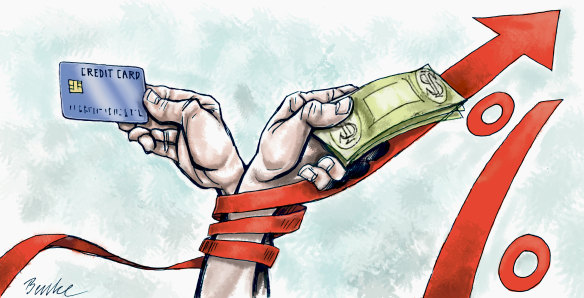 Household consumption accounts for about two thirds of domestic demand, and it was a key reason for strong economic growth in the June quarter.
More recent national accounts figures haven't been released yet, but it appears shoppers continued to spend at a decent rate, with retail spending up a solid 2.3 per cent over the September quarter (though admittedly, a fair bit of this was because inflation pushed up prices).
This solid spending may be surprising when you consider official interest rates have jumped from 0.1 per cent to 2.85 per cent since May as the Reserve Bank has tried to rein in surging inflation.
Markets think RBA governor Philip Lowe will probably raise rates again to 3.1 per cent next month, which would be the eighth consecutive rate rise this year, on top of the worst inflation in three decades. Will that finally take the wind out of household spending in the summer holiday period?
It will be closely watched by the market, with Westpac senior economist Matthew Hassan describing festive spending as a "litmus test" for the economy.
"It could be the last hurrah before we tighten the belts, given there's been a few missed Christmas holidays over the last few years," he says. "Or it could be, if we get a pre-Christmas rate hike, that we batten down the hatches."
Even if consumers keep on spending merrily over the Christmas-New Year period, however, economists are convinced that a slowdown is coming in 2023. Why are they so confident?
The basic reason is that moving interest rates takes a long time to affect the real economy. Financial markets react almost instantly to any change in the interest rate outlook, and house prices also respond promptly because rising rates cause banks to slash how much they'll lend homebuyers.
But banks typically take months to adjust customers' mortgage repayments, which means most borrowers are still a long way from feeling the full effect of higher rates. There is also an unusually large number of people on ultra-cheap fixed-rate loans who won't feel the sting until their fixed term expires, and they roll over to a higher rate (most of these loans will expire in the next two years).
So it may take time, but higher interest will inevitably force many people to cut their spending. As the RBA's latest Statement on Monetary Policy explained, households' interest payments on loans are higher than their interest receipts from deposits, so disposable income will be progressively squeezed.
Despite surveys repeatedly showing consumer confidence has plunged to recession levels, retail spending has been almost teflon-like and remained fairly resilient.
Household cashflows are also feeling the pinch from inflation, with prices going up far more quickly than incomes.
What makes this such an uncertain time, however, is that various other economic forces are working in precisely the other direction, and allowing us to spend more.
First, many households are still sitting on big gains in their wealth, including an estimated $250 billion in bank deposits that were amassed in the pandemic.
Second, there has been a jobs bonanza. The unemployment rate is close to 50-year lows and businesses are complaining of severe skills shortages. So, many people are probably confident about keeping their job, even if they also worry about the weakening economy.
Finally, there is clearly pent-up demand for experiences we've been denied in the past two summers, such as domestic or overseas holidays, as reflected in this week's bumper profit upgrade from Qantas.
All these forces may well keep consumer spending ticking along briskly for a while, but logic tells you they can't do that indefinitely.
Ultimately, the reality of sharply higher mortgage repayments and inflation will catch up with household budgets, and spending will have to be cut somewhere. That's why economists are predicting 2023 will be a much slower year than 2022.
Ross Gittins is on leave
The Business Briefing newsletter delivers major stories, exclusive coverage and expert opinion. Sign up to get it every weekday morning.