This World Cup is the strangest of global events. It is a fiasco of hypocrisy and, at the same time, a tournament of sporting magnificence.
Do you start with FIFA president Gianni Infantino and his ramblings? The bizarre musings were insulting to many people. But especially so when he expressed his feelings, that he was a wheelchair-bound homosexual African/Arabian migrant scaffolder.
Or do you instead start with how the seemingly impossible became reality with Saudi Arabia's stunning triumph over Argentina, one of the greatest upsets in the history of football's showpiece?
You could start there. But isn't to celebrate Saudi Arabia's victory also to highlight a great hypocrisy? Afterall, this is the same Saudi Arabia that has caused much of the sporting world to wring its hands.
The same Saudi Arabia which, through the shielding of its sovereign wealth funds (so as to at least portray an independence from the influence of the state), owns the majority of English Premier League club Newcastle United.
The same Saudi Arabia that funds Greg Norman's LIV Golf tour, which is designed to chew away at the establishment PGA Tour.
For anyone who's criticised their ownership of Newcastle or LIV Golf, it's surely hypocritical to celebrate the victory of Saudi Arabia over Argentina. Can you celebrate the victory and still throw spears at the Kingdom?
However, as alarming as these matters are, they fade when compared the fiasco of FIFA threatening to award yellow cards if the captains of England, the Netherlands, Denmark, Switzerland, Germany, Belgium and/or Wales dared to wear the "OneLove" rainbow armband.
In its own statutes, FIFA proclaims that it is committed to respecting all internationally recognised human rights and that will strive to promote the protection of those rights.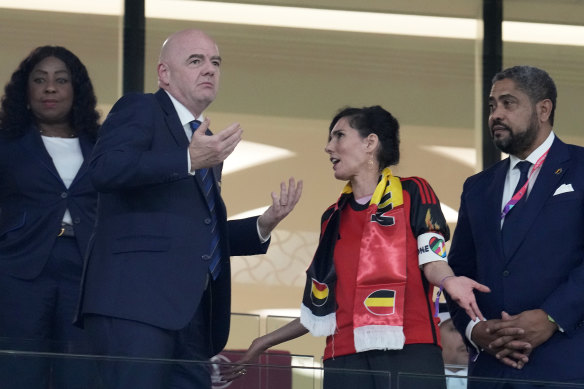 In the very next section, the statutes say that FIFA prohibits, with the threat of suspension or expulsion, discrimination of any kind against any person or group of people on account of race, skin colour, ethnic, national or social origin, gender, disability, language, religion, political opinion or any other opinion, wealth, birth or any other status, sexual orientation or any other reason.
FIFA's own constituent governing document says all of that. In reality, what has happened this week is that practically any garment displaying any variation of a rainbow design has drawn the ire of Qatari security, and the Persian flag has been banned inside stadiums because it's a form of protest against Iran's theocratic regime.
Furthermore, we end up with the captains of seven European teams caught in a FIFA squeeze play, forced to choose between using their platform in a manner entirely consistent with FIFA's own motherhood statements, and on the other threats of causing quite possibly damage to their teams' chances at this World Cup. All of this, over rainbow armbands.
Football's Laws of the Game do provide that a player's equipment – including, relevantly, a captain's armband – mustn't incorporate any political, religious or personal slogans. It's a stretch to conclude that an armband with a rainbow-striped heart and the words "OneLove" traverses that threshold.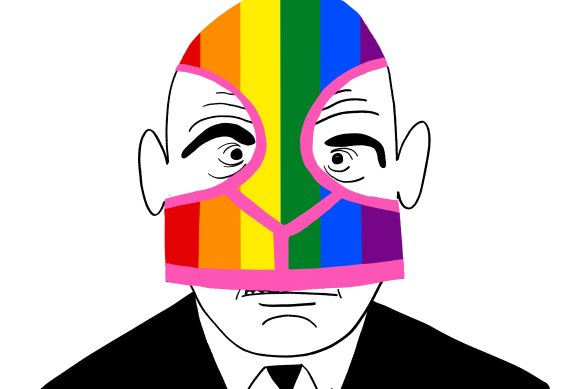 And unless you can confidently conclude that the armband incorporates a political, religious or personal slogan, it's hard to understand how the match referee or FIFA could have dished out any sanction whatsoever.
But even if the armbands do offend those laws, it's difficult to understand how, under those same laws, the captains could have been yellow-carded. Law 4 of the Laws of the Game is drafted in terms that say the referee must direct the player to leave the field to correct the equipment, with any further sanctioning power only invoked if the player re-enters the field without permission. There's no obvious sanction, just for wearing the garment per se.
Further, Law 12 deals with fouls and misconduct and the circumstances in which a yellow card can be issued by the referee to signify a caution. The laws don't explain how a yellow card can be issued for a player wearing an item of clothing or kit which contravenes Law 4, even if the clothing or kit does breach the law at all.
So FIFA is acting like a bully. Regardless of its own rules, it will stop at not much to stamp out dissent.
FIFA's words actually make no sense in context. We have the FIFA statutes, which are all fine as they appear on the page, but how likely is it that FIFA ever would enforce its stated powers in the face of identified discrimination against marginalised groups? FIFA is more interested in flexing its muscle to squash free speech.
And for however "gay" Infantino felt earlier this week, how does a man who says that he feels that way nonetheless go the full sledgehammer on those who seek to show solidarity with those who actually are gay?
FIFA's messaging is so jumbled that it is impossible to know whether the governing body stands for much at all, besides the appeasement of the hosts it corruptly awarded the World Cup hosting rights to 12 years ago.