Cabinet ministers have started work on spending cuts in the federal budget after identifying programs they want to scrap, sparking a warning to Australians to prepare for curbs on outlays to bring the nation's finances under control.
Prime Minister Anthony Albanese said the Labor government's first budget would "really put the brakes on" federal spending to address problems highlighted by the expenditure review committee of federal cabinet.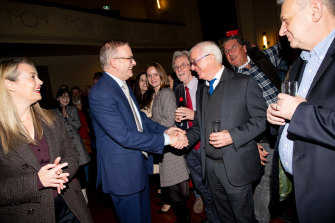 "We're going to have to really put the brakes on some of the spending which is there," he told the ABC's 7.30 program on Thursday night.
With budget deficits forecast to reach $261.4 billion over the four years to 2025, the incoming government is rejecting some spending options despite pressure from state leaders and community groups for long-term boosts to outlays on health and social services such as Newstart.
Albanese offered state and territory governments a $761 million increase in hospital funding at a national cabinet meeting last Friday, but the money covers the six months to December 31, which means federal assistance falls back to lower levels next year.
With interest rates on the rise, the government faces the risk of further costs on commonwealth debt when the annual interest expense was forecast to rise from $20.6 billion this year to $26 billion in 2025, more than family assistance programs are due to cost in that year.
Treasury Secretary Steven Kennedy signalled the need to control spending and ease the cost of tax concessions in a speech on June 8 that has sharpened a debate over how to close the gap between spending and revenue when there is no forecast of a return to surplus in the budget papers.
Albanese confirmed the warning about the pressures on the budget in an interview on Thursday night, but rejected the idea of repealing income tax cuts put forward by the Coalition and supported by Labor despite the party's reservations.
"I've made it very clear there is a range of things that I would like to do that we won't be able to do in our first budget," he said.
"We will also be going through, line by line, looking for the waste which is there.
"And, already, we've identified a range of measures that were made by the former government that, frankly, don't stack up.
"And we'll be taking appropriate action through Katy Gallagher, as finance minister, and Jim Chalmers, as the treasurer. And our ERC is already working very hard."
When ABC 7.30 host Leigh Sales asked the prime minister about the theme and goal of the budget, Albanese said the first would be getting rid of "waste and rorts" and the second would be delivering on Labor election promises.
He named childcare funding, the creation of Jobs and Skills Australia and the climate policy to cut carbon emissions and invest in the electricity grid as examples.
Greens leader Adam Bandt is urging the government to abandon the personal income tax cuts that were legislated in the last term of parliament but are not due to take effect until the next few years, but Albanese did not indicate a shift in his stance when Sales asked him about the cost to the budget.
"Can you really go ahead with that in an environment where you have high inflation and pressures on things that you want to spend money on like the NDIS?" she asked.
"Well they are legislated and one of the things that people have a right to believe is that when a politician makes a commitment before an election, they keep it, and I intend to do just that," Albanese replied.
"What we need as well is to have that certainty. People made assessments based upon the certainty that comes through legislated tax changes and we intend to fulfil that, Leigh."
Cut through the noise of federal politics with news, views and expert analysis from Jacqueline Maley. Subscribers can sign up to our weekly Inside Politics newsletter here.