Spending time in New Zealand is a joy for actor, writer and director Leah Purcell but she admits it's also confronting. The Maori language is widely spoken and the culture is omnipresent, in stark contrast to the reality at home.
"I feel moved thinking this is how Australia should be," Purcell says. "It brings a tear to my eye every time. The pakeha, or white people, know the language."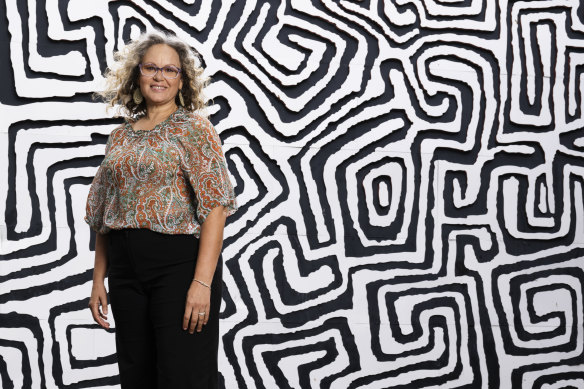 Purcell is immersing in Maori culture in Otaki, a coastal town about an hour north of Wellington, where she is the first Indigenous filmmaker to take up a residency at the Maoriland Film Festival. Purcell is running masterclasses for local filmmakers and Indigenous writers from Australia and also devoting time to her own projects, including the first read of a new script she's written.
"Of course, there's cultural exchange, while here we go out on Country and we've shared ceremony as well."
The two-week residency caps off a busy year for the 52-year-old, who is in the running for eight awards at the AACTAs on December 5 for her first feature film, The Drover's Wife The Legend of Molly Johnson, including best film, best direction and best actress. The film has a total of 13 nominations – Purcell wrote, directed and starred in the film, a reimagining of the original Henry Lawson story from a feminist First Nations' perspective.
The AACTA nominations reflect the importance of Indigenous storytelling in Australian screen culture as well as on the global stage. In the past year, First Nations-led film such as Purcell's, and television series such as Mystery Road, Firebite and the children's cartoon Lil J and Big Cuz, have been picked up by streamers for international audiences.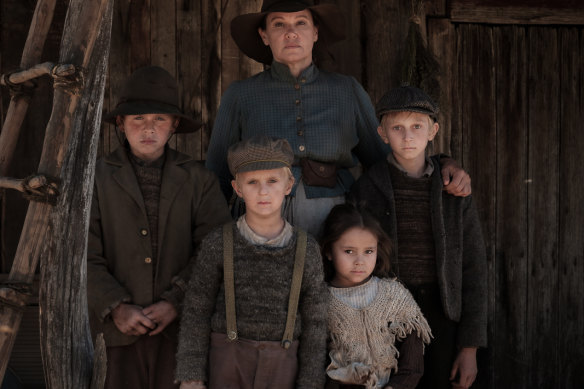 "They're bloody good shows. We've been punching above our weight for the past 20 years since Redfern Now, with blackfella stuff on mainstream TV and the streamers now, I think that first and foremost, they've got to be good stories for people to stay engaged," Purcell says. "Once again we're coming back to homegrown [stories], with ancient history, rising to the top, those that really have a great connection to the country."
Growing up in Murgon, south-east Queensland, Purcell was the child of a white father and a Goa-Gunggari-Wakka Wakka Murri mother. Her father didn't live with them – he had another, white, family, who lived on the other side of town. She started her career as a singer but is perhaps best-known for Wentworth and Redfern Now, and the movies Lantana and Jindabyne.
Purcell has written many of her own roles, largely because people don't know where to place her. "Because I'm fair-skinned. Because I'm such an activist, they put me in the black box and that's fine as well."
She describes The Drover's Wife as a passion project – Lawson's classic tale was a family favourite, and she saw her mother reflected in the fierce woman flying solo at the centre of the story. The awards provide a chance to take a moment and "pay back respect to the work".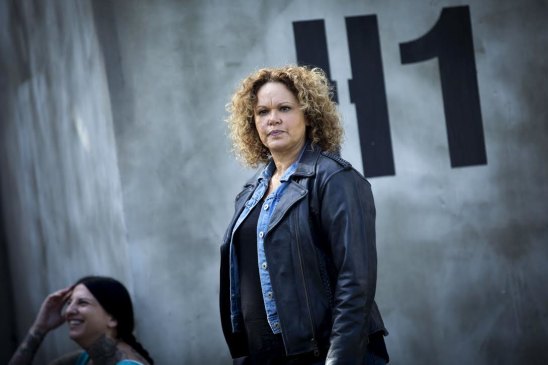 "I'm a competitive person, I'm rubbing shoulders with Baz Luhrmann and George Miller, bring it on," she says with a laugh. "If their shine rubs off on me and if I could have a small proportion of their careers ..."
The Sydney-based creative has several projects under way with her husband and business partner Bain Stewart via their production company Oombarra Productions. Purcell has written the treatment for her next feature film, which she won't go into detail about except that "it's something that hasn't been done before, for children and families".
"That's all I'm giving away at this stage until it's all locked in," she says. "It's got that Indigenous component in it, it's about an adventure of a little Indigenous boy and a little Asian kid."
Next year, she will appear in The Lost Flowers of Alice Hart, alongside Sigourney Weaver and Asher Keddie, by production company Made Up Stories and Amazon Prime.
She has not yet finished with The Drover's Wife, saying there's a TV version pitched at the streaming networks, a children's version and another in a genre she won't reveal, to come. While she'd love to revisit the 2016 play she wrote and staged 33 times at Sydney's Belvoir St Theatre – ideally with a national tour and her in the lead – the biggest challenge is finding time to make that happen.
"I've got a few things on the boil, I wouldn't be me if I didn't, you know. I love running to schedule, when I've got a piece of paper and a pencil and a deadline, I'm good," she says. "I get a buzz out of what I do. I'm very fortunate to have a job that I love that stimulates me, emotionally, intellectually, physically, and while I've got oxygen in my lungs and my heart beating I want to create stories."