About 1 million more people aged 50 to 59 are likely to get immunised for COVID-19 now they can have the Pfizer shot, after AstraZeneca's vaccine was on Thursday limited to people aged over 60.
Daily vaccination rates are also expected to dip temporarily as clinics across the country cancel AstraZeneca bookings for people aged under 60, after the Australian Technical Advisory Group on Immunisation recommended lifting the age for AstraZeneca due to a slightly increased risk of clotting for people aged 50 to 59.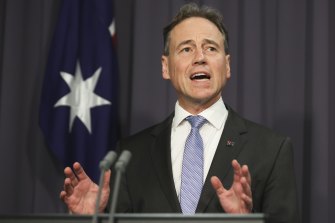 Prime Minister Scott Morrison will also convene an emergency national cabinet meeting early next week with state and territory leaders to work through how the change will affect the rest of the rollout.
Health Minister Greg Hunt said one positive from the change in advice was that about half the 2.1 million people aged 50 to 59 who had been hesitant about the AstraZeneca vaccine would now be more willing to come forward for Pfizer.
"It will mean for those potentially up to a million people who were AstraZeneca hesitant within that age group, they will have access to Pfizer," he said.
"We want everybody, everybody under every circumstance to come forward with the vaccination. For some, this will mean they will be more likely to be vaccinated now."
Across the country more than 6.36 million doses have been administered, with more than 141,000 administered on Thursday.
COVID-19 Taskforce Commander, Lieutenant General John Frewen said he expects to see a short-term drop in daily vaccination numbers, as state clinics and general practices work to change bookings and more clinics get access to Pfizer supplies.
"What we need from the Australian public is some patience, particularly in the 50 to 59 cohort across the next couple of weeks, as we get the bookings in place and we get those additional points of Pfizer availability in place," he said.
Opposition Leader Anthony Albanese said the federal government had relied too heavily on just two vaccines.
"[The government] put all their eggs in the AstraZeneca basket and now those chickens are coming home to roost. This is a real problem going forward," he said on Friday. "Because whilst we don't have an effective rollout of the vaccine, and whilst we don't have effective national quarantine, we'll continue to have breakouts."
But Lieutenant General Frewen says the updated advice won't change rollout goals.
"I have confidence that all Australians who wish to get vaccinated will have access to a first vaccination by the end of this year," he said.
Doctors can also now bulk bill consultations for longer consultations to cover patients' vaccination concerns. It will give GPs more time to discuss the benefits of immunisation, Australian Medical Association president Dr Omar Khorshid said.
"It is a big step in allowing doctors to take the time to sit down and discuss fully with their patients, some of whom are nervous, the benefits and incredibly low risks associated with vaccination," he said.
Federal MP John Alexander, who is 69, was happy to get his first AstraZeneca shot on Friday.
"I have full confidence in our vaccination program and in the AstraZeneca vaccine, the rewards outweigh the tiny risks," he said.
Australia's Chief Nursing and Midwifery Officer, Professor Allison McMillan said people aged over 60 should not hesitate to get vaccinated.
"If you contract COVID-19 you are much, much more likely to get unwell or die than if you have a side effect from the vaccine," she said.
Professor McMillan also urged those in the 50 to 59 age bracket to get their second dose if they had already had one dose of AstraZeneca to be fully protected.