Most of the ideas cooked up in pubs are dead by dawn.
But when Rachael Pearson glanced up at the TV as she hobbled around a pub in southwest NSW selling raffle tickets for a meat tray, she knew something had to change.
Which is why her idea to move almost 700 kilometres kilometres from Hay and into her brother's spare room in Wollongong, for the mere chance to realise an NRLW dream, was one she refused to let go.
"I was back home in Hay. I was playing league tag, coaching league tag. I was very comfortable living locally, still at home, with a job I really loved," Pearson said.
"At the end of 2017 I broke my foot, a Lisfranc injury. I was selling raffle tickets in a pub for a meat tray, walking around with my moon boot on. The TV was on. As it is in a country pub, the footy is always on. I looked up and thought 'I want to play rugby league'.
"I saw the 2017 World Cup on TV. I thought 'something has got to change, I need to challenge myself and give rugby league a go'. It was sort of like 'where is the nearest competition?'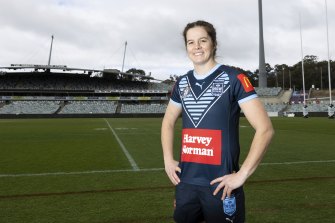 "My coach back in Hay asked if I wanted to give league a go and I was like 'well, yeah I do because I'm 25 and I want to challenge myself and push myself to see what I can do'. It pretty much took me 12 months to recover from that foot injury and to get back to where I was.
"My brother and his partner were living in Wollongong. In January 2019, I moved to Wollongong."
There she joined the Helensburgh Tiger Lillies under coach Sam Bremner, the former NSW Sky Blues fullback who had taken a step back from playing to have her first child.
Among her teammates at the Tiger Lillies were NSW captain Kezie Apps and Dally M-winning centre Jess Sergis.
Now the quartet have linked up again, only this time they are all players in Kylie Hilder's NSW squad preparing for Friday night's State of Origin clash with Queensland at Canberra Stadium.
Bremner is 18th woman while St George Illawarra halfback Pearson will partner Kirra Dibb in a new-look halves pairing as NSW look to win back the Origin shield for the first time since 2019.
"When I saw the [NSW] jersey with No. 7 on it, I was very emotional. I really did get quite emotional and a fair few tears," Pearson said.
"I'm just proud of the decision to move. The choice to move that 700 kilometres just to play some rugby league, and to now be in Blues camp, it's all very surreal.
"It's just exciting. I'm trying to just soak up each day and enjoy spending time with the girls, getting comfortable with being here."
Stream the Women's State of Origin game live and free on 9Now.
Watch the State of Origin exclusively live and free on Channel 9 and 9Now.