By

Sarah Lyall

and

Kris Rhim
Tarrytown, NY: Trumpet, a magnificently be-wrinkled and be-jowled bloodhound from Illinois, has won Best in Show at the Westminster Kennel Club Dog Show, nosing out a tough crowd of competitors that included a fluffy Samoyed, a silky Maltese and an all-business German shepherd.
Posing before a massive silver cup and a slew of ribbons in the traditional champion's post-victory glamour shoot on Wednesday night (Thursday AEST), Trumpet had little to say. But he looked every inch the champion, his lugubrious face and quizzical air for some reason adding to, rather than detracting from, his dignity. He is the first bloodhound to win Westminster.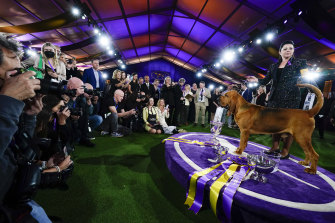 "I was shocked," Heather Buehner, Trumpet's handler, said.
"There were seven beautiful dogs in that ring. You know, I feel like sometimes a bloodhound might be a little bit of an underdog. So I was absolutely thrilled."
Shockingly, she said, Trumpet competed in his first dog show in January.
Second place, or Best in Show Reserve in the parlance of Westminster, was awarded to a winsome French bulldog named Winston.
Co-owned by NFL gridiron footballer Morgan Fox, Winston went to Westminster as the top-ranked dog in the country but was pipped by the bloodhound.
"I'm just so proud of him and the whole team," Fox said by text afterward.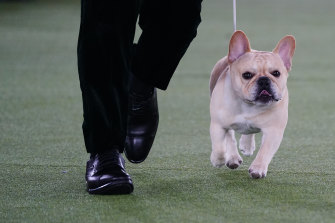 The show, traditionally held in the winter at Madison Square Garden, was moved for pandemic-related reasons to Lyndhurst, a country estate here, for a second year in a row. The preliminary rounds were held in outdoor rings and the group and Best in Show rounds were staged in a large tent filled with a small but enthusiastic number of dog fanciers.
It was hardly the same as a typical year, though the familiar sound of Frank Sinatra singing New York, New York filled the suburban air at the end of the evening. Back in Midtown, the Empire State Building lit up in purple in recognition of the dog show.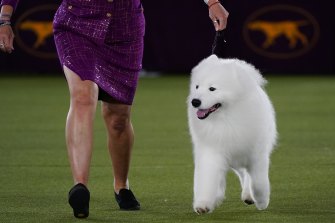 With his lumbering gait and ponderous manner, Trumpet, who is four years old, was not necessarily the first choice of spectators who seemed to be drawn to showier, more effervescent dogs. The largest cheers of the evening were reserved for Striker, a charismatic and blindingly white Samoyed who was one of the seven group winners.
Striker reached the finals last year, too, only to lose to a tiny Pekingese named Wasabi.
But Trumpet had that special something that champion dogs have. And he comes from winning stock. His great-grandfather, Trigger, once held the record for the dog with the longest ears, according to the Guinness Book of World Records. Trigger's right ear was 13.75 inches long; his left was 13.5 inches long.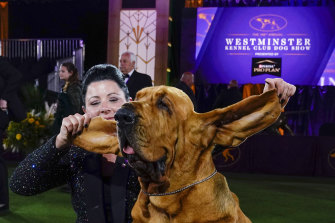 This article originally appeared in The New York Times.