A Sydney actor accused of killing a home invader with a samurai sword in concert with his girlfriend has offered to plead guilty to manslaughter.
Blake Davis, 29, and his girlfriend Hannah Quinn, 24, were at home in Forest Lodge in the city's inner west in August last year when Jett McKee burst into the house, armed with knuckledusters, a balaclava, pepper spray and a replica gun, demanding money.
He threatened to shoot them, punched Mr Davis and grabbed Ms Quinn's bag before running out of the home as the couple gave chase.
Ms Quinn said that, when she grabbed her bag, Mr McKee tried to punch her and he fell over.
Police will allege that Ms Quinn grabbed his jacket and flung him to the ground.
Seconds later and armed with a decorative samurai sword, Mr Davis allegedly "inflicted a penetrating wound into the deceased's skull using the samurai sword", according to court documents seen by the Herald.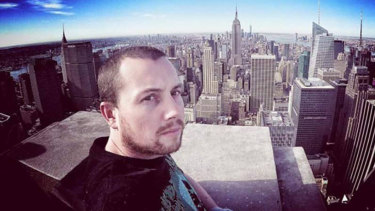 "What the f--- have you done?" Ms Quinn allegedly screamed at her boyfriend.
Mr McKee, a "pioneer" of Sydney hip hop and a problem gambler, got to his feet and stumbled for a few metres, then died.
As police scoured the premises looking for the couple, they allegedly fled and spent the weekend on the run in various hotels across the city before handing themselves in to Newtown police station.
There, they were both charged with murder.
The Downing Centre Local Court on Thursday heard that Mr Davis offered "a plea" late on Wednesday night.
Sources close to the prosecution have told the Herald that he has offered to plead guilty to manslaughter over Mr McKee's death.
The Director of Public Prosecutions will take five weeks to consider the offer, DPP solicitor James Ly said on Thursday.
Ms Quinn's charge was certified in the same court on Thursday, meaning the TAFE student and barista will go to trial over the murder charge and another charge of accessory to murder after the fact.
"It is nonsensical that the Crown have certified the murder charge against Ms Quinn. We intend to vigorously defend the charge," her lawyer Lauren MacDougall said.
The couple's bail has been continued and they continue to live together.