Working as a barista at a Brunswick cafe, Ninna Larsen was shocked to see coffee grounds ending up in landfill given she knew its value as compost in gardens.
She started carting the cafe's coffee grounds down the road in a wheelie bin to community garden CERES, and when other cafes wanted to get in on the act, Larsen's coffee ground recycling business Reground was born.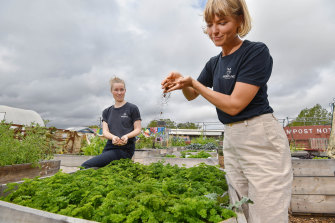 "We all drink coffee, the majority of us do, we are all part of the problem and can be part of solving the problem," Larsen says.
This year Reground is taking on its biggest customer yet as it seeks to reuse the coffee grounds from the caffeinated crowds at the Australian Open.
Over the course of the Australian Open tournament, over 200,000 cups of Lavazza coffee are expected to be drunk by players and spectators. That equates to around one tonne of coffee grounds which would have previously gone straight into landfill.
Larsen started Reground in 2015, taking coffee grounds from cafes and roasteries and transporting them to community gardens and home gardeners.
'We are trying to educate people that everyday decisions matter on a big scale as well.'

Reground founder Ninna Larsen
"We don't want to see organic waste ending up in landfill," Larsen says. "There's a lot you can do with waste when it is captured as a single stream. I could see what was coming in terms of climate change and, coming from Denmark, we have a pretty sophisticated waste set-up so it was an obvious problem to participate in solving."
Reground services over 100 cafes, offices and roasteries around Melbourne and collects over six tonnes of coffee a week which it distributes to around 100 end users.
Cafes pay Reground, which has an annual turnover of about $400,000, a monthly fee based on the volume of coffee grounds collected and Larsen says the cost is similar to the amount businesses are charged for general waste disposal.
More recently, Reground has added soft plastics to its pick-ups which it takes to local plastics recyclers, and the company will also provide this service at the Australian Open.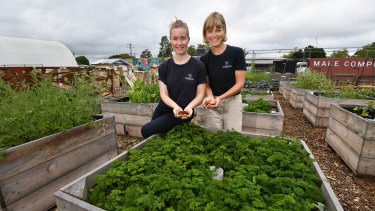 Servicing the Australian Open through a partnership with Lavazza is a big undertaking for Reground, with a typical cafe producing a tonne of coffee grounds over a year while this amount is produced in just two weeks at the tennis tournament.
"It is an eye-opener in terms of how much is produced in a space like the Australian Open it kind of makes me wonder about all the other events that happen around Melbourne and how much waste they produce?" Larsen says.
"With climate change and the bushfire situation in Australia at the moment, we are trying to educate people that everyday decisions matter on a big scale as well. If you are really trying to change things, you should look at your own practices."
Lavazza's APAC managing director Silvio Zaccareo says the coffee giant is also partnering with TerraCycle to dispose of all Lavazza coffee pods at the event and are introducing compostable cups for all coffee sold.
"This is just another example of our commitment to growing our environmental responsibilities at the Australian Open – and in turn, the wider community," he says.