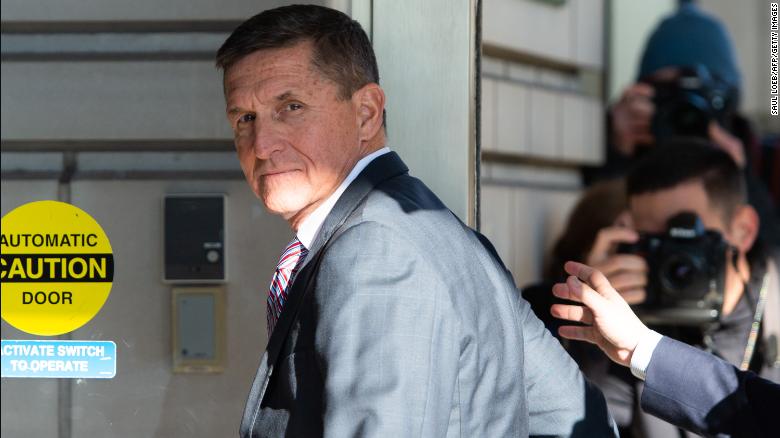 (CNN)Michael Flynn has finished cooperating with special counsel Robert Mueller's investigation, but the information he provided is still part of other ongoing criminal investigations, prosecutors said in court on Friday.
Federal prosecutors in Virginia want to restrict sharing some special counsel memos of interviews with Flynn because of the "ongoing investigation" into matters he shared with investigators.
In court Friday, the prosecutor said the ongoing probes were unrelated to Flynn's Turkish lobbying case -- raising the possibility it touches on Flynn's ties to the Trump campaign, transition, administration or the Russian government .
The prosecutor in court Friday stopped himself after he acknowledged other US attorneys may be looking at what Flynn shared with the special counsel.
"At least one other district," he said, correcting himself after first saying "districts," before asking to withdraw his statement in court representing the number of ongoing investigations.
Defense attorney Mark MacDougall, who defends Flynn lobbying partner Bijan Kian, pushed back on the assertion that Flynn is relevant to more possible criminal cases -- citing a special counsel's office statement earlier this week that said Flynn's cooperation was complete aside from potentially testifying at Kian's trial.
Kian and Flynn worked together to lobby on behalf of the Turkish government. Kian pleaded not guilty in December to conspiracy and acting as an unregistered foreign agent.
Kian was accused of hiding his pro-Turkey lobbying from the US government. The indictment said he tried to convince US lawmakers to support the extradition of an exiled Turkish cleric who lives in Pennsylvania. This is a top priority for the autocratic government in Ankara, because Turkey's President blames the cleric for the 2016 coup that threatened his grip on power.
Prosecutor James Gillis left it unresolved that investigations to which Flynn contributed are still underway. Flynn's lawyers declined to comment following the hearing.
The prosecutors in the Kian case have proposed to redact information in the memos "that would or could be hampered by unfettered information" made available to the defense team for Kian.
The defense lawyers for a former lobbying partner of Flynn's want access to all the special counsel's office memos from Flynn's cooperation so they can prepare to question Flynn at the trial over Turkish lobbying. The trial is set for Virginia federal court this summer. Kian, whose full name is Bijan Rafiekian, has pleaded not guilty and did not appear in court on Friday.
In all, the Virginia prosecutors say they have 19 memos from Flynn's cooperation --15 from the special counsel's office and four from the Turkish lobbying investigation in Virginia.
"We do not want those 302s leaving the office" of the Virginia US attorney inside the courthouse, Gillis said.
Kian's attorneys were waiting to look through at least some of the documents the US attorney keeps after the hearing this morning.