Summary
SPI futures are down 13 points, or 0.2%, and point to early losses for the ASX 200
The S&P 500 and NASDAQ ended lower overnight, reversing gains after the US Fed indicated interest rates would remain near zero for a prolonged period
ABS jobs data for August is due at 11.30am AEST. Economists expect the unemployment rate to edge higher from 7.5%
Brent crude is up 4.4% to $US42.30 a barrel, US oil rose 5% to $US40.21, and iron ore fell 3.4% to $US124.20 a tonne
Latest updates
Victoria has recorded just 28 new coronavirus cases in the latest 24-hour reporting period, placing Melbourne's 14-day average even further under the all-important 50-case mark.
Sadly, the state also recorded eight additional deaths.
It's the lowest daily new case tally in almost three months.
The last time the state had a new daily number this low was June 24 when there were 29 new cases.
Meanwhile, Regional Victorians can leave home for any reason and have a "household bubble" of five visitors under eased restrictions in place from this morning. In turn, NSW has eased restrictions on the Victorian border, increasing the size of its border zone and allowing travel within the zone for any purpose.
The Federal Reserve kept interest rates pinned near zero on Wednesday (US time) and promised to keep them there until inflation is on track to "moderately exceed" the US central bank's 2 per cent inflation target "for some time."
The change in guidance is part of a monetary policy shift announced by the Fed last month that is aimed to offset years of weak inflation and allow the economy to keep adding jobs for as long as possible. But it came at the cost of two dissents, one from a policymaker who thought it went too far, and the other from one who thought it didn't go far enough.
"Effectively what we are saying is that rates will remain highly accommodative until the economy is far along in its recovery," Fed Chair Jerome Powell said in a news conference following the release of the central bank's latest policy statement and economic projections.
"That should be a very powerful statement in supporting economic activity" and returning inflation to the Fed's 2 per cent inflation goal faster, he said, adding that he thinks the forward guidance will be "durable"
Full story, via Reuters, is here.
ASX futures down 13 points, or 0.2 per cent, to 5950 at 8.30am AEST
AUD at 73.07 US cents
Wall Street Dow +0.1%, S&P -0.5%, Nasdaq -1.3%
Spot gold +0.2% to $US1958.93 an ounce
Brent crude +4.4% to $US42.30 a barrel
US oil +5% to $US40.21 a barrel
Iron ore -3.4% at $US124.20 a tonne
10-year yield: US 0.70% Australia 0.86% Germany -0.49%
The S&P 500 ended lower overnight, reversing gains late in the day as losses in technology shares outweighed a Federal Reserve statement that stoked optimism it would keep US interest rates near zero for a prolonged period.
The index initially extended gains and the Dow briefly rose more than 1% after the Fed kept rates near zero and promised in its policy statement to keep them near there until inflation is on track to "moderately exceed" the US central bank's 2 per cent target "for some time."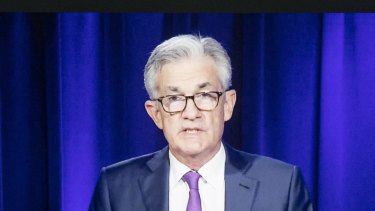 New economic projections showed most policymakers see interest rates on hold through at least 2023.
But the market reversed direction heading into the close, with technology shares leading the way down on the S&P 500. The tech sector, which had been recovering from a sharp sell-off, fell 1.6 per cent on the day, the biggest drag on the benchmark index.
The statement and comments by Fed Chair Jerome Powell were "even more dovish than the market expected," said Quincy Krosby, chief market strategist at Prudential Financial in Newark, New Jersey. "It telegraphed to the market that the Fed intends to remain accommodative."
Late losses likely followed declines in technology shares, she said. "What you're seeing is some profit-taking in the tech sector. That's where the selling is."
The Dow Jones Industrial Average rose 36.78 points, or 0.13 per cent, to 28,032.38, the S&P 500 lost 15.71 points, or 0.46 per cent, to 3,385.49 and the Nasdaq Composite dropped 139.86 points, or 1.25 per cent, to 11,050.47.
The central bank's two-day meeting was its first under a newly adopted framework that promises to shoot for inflation above 2 per cent to make up for periods where it runs below that target.
On the plus side, FedEx Corp shares rose 5.8 per cent after the package deliverer reported a bigger-than-expected quarterly profit, helped by price hikes and lower fuel costs.
Spotify Technology SA fell 1.3 per cent after Apple Inc announced a bundled plan for all its services that lowered the cost of Apple Music subscriptions.
Reuters
G'day everyone and welcome to Markets Live. Taking you through the news today is Alex Druce.
A soft start is tipped for local stocks after a retreat on Wall Street overnight. Reuters reports US markets reversed direction following the US Fed's dovish policy statement, with technology shares leading the way down on the S&P 500.
We've got jobs data for August due at 11.30am AEST.
This blog is not intended as financial advice