NSW Premier Gladys Berejiklian says the COVID-19 cases in NSW are still increasing, and authorities are most concerned about community to community transmission.
NSW Chief Health Officer Dr Kerry Chant says there are now 1405 cases in NSW - 877 of those cases are overseas acquired, 278 are locally acquired.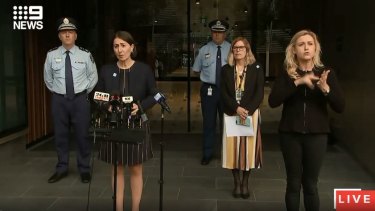 "When you have cases that come from overseas, you can monitor them and you have a source. But when it is community-to-community transmission and you don't have a source," Ms Berejiklian said.
"That means the virus is starting to spread in the community without us know where and that's a concern. That's why it is so important that all of us, all of us, maintain social distancing."
"If NSW has to take difficult decisions we will. We don't want more people in hospital than we can cope with."
Dr Chant said the number of cases with no known source has increased to 145.
"As the Premier said, that is the group that most concerns us because it represents community transmission without a known source," Dr Chant said.
The number of people being treated for the virus in NSW is 134, with 19 in ICU and 53 in hospital wards.