We're tracking the latest on the coronavirus outbreak and the global response. Sign up here for our daily newsletter on what you need to know.
Italy's Prime Minister Giuseppe Conte is readying new measures to stem the coronavirus resurgence as millions across Europe face tighter restrictions on movement.
The U.S. added 57,164 new virus cases, the fifth consecutive day of infections over 50,000 as the nation's outbreak accelerates.
London and Paris enforced tighter curbs. Victoria, the worst-hit state in Australia, announced an easing of restrictions. U.S. House Speaker Nancy Pelosi and Treasury Secretary Steven Mnuchin held talks Saturday about efforts to craft a stimulus package to buoy the world's biggest economy.
Key Developments:
Subscribe to a daily update on the virus from Bloomberg's Prognosis team here. Click CVID on the terminal for global data on coronavirus cases and deaths.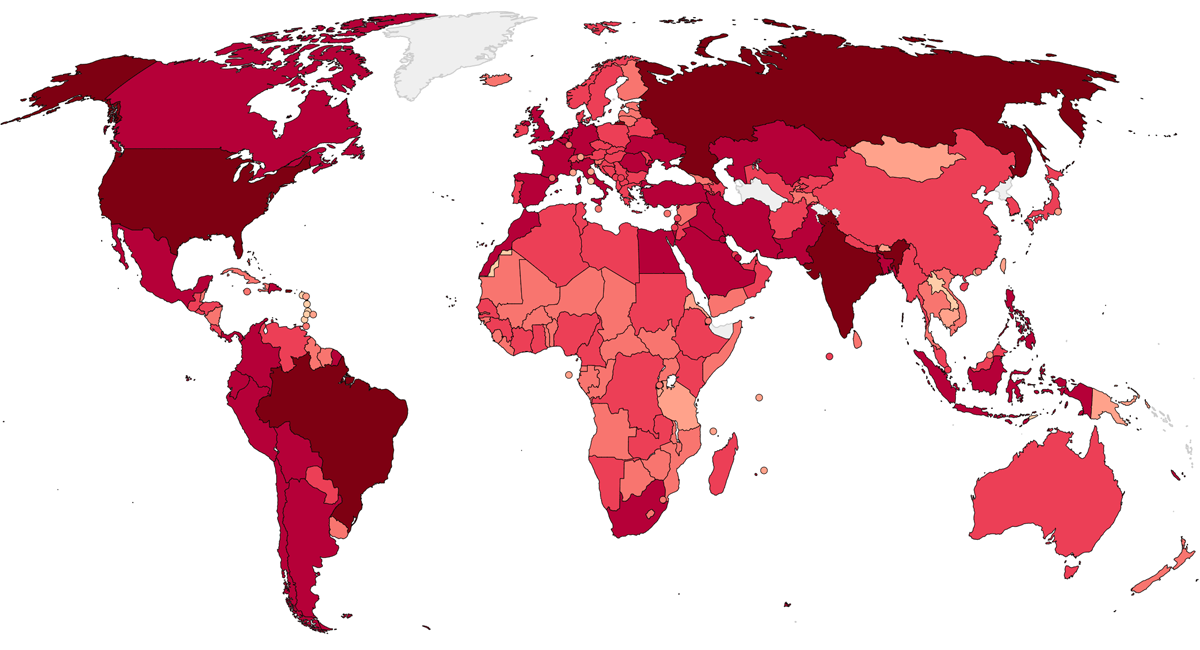 Switzerland Makes Masks Mandatory Indoors (8:30 a.m. NY)
Masks will now be required in public indoor spaces including airports and train stations, Swiss President Simonetta Sommaruga said at a press conference. Spontaneous public gatherings of more than 15 people will be forbidden and private gatherings exceeding that number will require masks.
The government also advised people to work from home whenever possible.
U.S. Adds Almost 60,000 Cases (8 a.m. NY)
The U.S. added 57,164 new virus cases, according to data compiled by Johns Hopkins University and Bloomberg.
The number was a drop from the previous day's 69,276, the most since late July. An additional 712 people died, slightly less than the previous week's daily average.
Ireland Mulls Lockdown (7:33 a.m. NY)
Ireland's government is considering health authorities' recommendation to move the nation to the tightest lockdown level as cases surge to levels last seen in April.
The government will take "decisive" and nationwide action on Monday, Higher Education Minister Simon Harris told broadcaster RTE on Sunday, without giving details.
"Level 3 has not worked," Harris said. Level 5 would see all non-essential stores close, and confine people within 5 kilometers (3.1 miles) of their home. Most of the country is currently in Level 3.
Iran Sees Case Decline (6:52 a.m. NY)
The number of daily cases in Iran fell below 4,000 for the first time in a week with 3,890 more infections overnight. The death toll reached 30,375 with 252 fatalities in the past 24 hours, a Health Ministry spokeswoman said on national television.
French PM Says Curfew Needed to Avert Lockdown (5:37 p.m. HK)
The curfew that began this weekend in Paris and eight other French cities should help curb the coronavirus outbreak without the damage that comes from a national lockdown, Prime Minister Jean Castex said in an interview in Le Journal du Dimanche newspaper.
"The challenge is to face up to it without resorting to a broad lockdown, across the whole country and for a long time," Castex told the paper. "I want to avoid it."
France reported a record 32,427 new coronavirus cases in the past 24 hours.
Thailand Finds New Transmissions at Border (5:26 p.m. HK)
Thailand reported five new local virus transmissions in two days from the Tak province, which borders Myanmar, including that of a 1-year-old child. The patients are related and are citizens of Myanmar.
Thailand has stepped up its screening process along the border in a bid to prevent the spread of virus. People in Tak have been told to avoid social events and maintain social distance. Religious functions are canceled over the next days, according to the Health Ministry.
German President in Quarantine After Contact (5:06 p.m. HK)
German President Frank-Walter Steinmeier entered quarantine after a bodyguard tested positive for the virus Saturday, a spokeswoman said. Steinmeier's first test result was negative but he will be tested again.
The country reported 4,862 new cases, fewer than in recent days, in a pattern common on the weekend when not all the data gets tallied.
Russia Reports New Cases Amid School Debate (5 p.m. HK)
Russia reported 15,099 new cases, the third day in a row that infections have hovered around 15,000, according to data from the government's National Virus Response Center.
Russia has so far resisted returning to a lockdown to battle the second wave of infections, but Moscow has introduced new measures. The city also reopened several temporary hospitals and sent schoolchildren on an unplanned two-week vacation.
Any decision to close schools should be made by Russia's regions based on the local situation, Education Minister Sergey Kravtsov said in an interview with the Tass news agency published on Sunday.
Poland Sees Rising Case Numbers (4:35 p.m. HK)
Poland registered 8,536 new coronavirus cases and the death toll continued to climb. The country had 649 respirators in use, compared with 383 a week earlier.
Israel Eases Restrictions (4:32 p.m. HK)
Israel eased coronavirus-related restrictions in most of the country on Sunday as new infections continued to decline, though localities with the most cases will still be subject to strict curbs.
The spread of the virus has slowed in Israel four weeks after it became the only rich nation to go into a second nationwide lockdown. So far, there have been more than 300,000 confirmed cases and almost 2,200 fatalities.
Austrian Chancellor Urges Discipline (4:02 p.m. HK)
Chancellor Sebastian Kurz urged Austrians to curb social contact and observe health measures to avoid a second lockdown in a videotaped message on social media.
"If all of us do without private festivities, large gatherings, parties, we can slow down the spread and keep open schools, the economy, and large parts of social life," Kurz said.
Austria posted a record increase in new cases Saturday, bringing the countrywide seven-day incidence above 100 for the first time. Kurz is due to meet governors of the country's nine provinces on Monday to discuss further measures.
Italy Readies New Virus Measures (4 p.m. HK)
Italian Prime Minister Giuseppe Conte may order bars and restaurants to close early, ban some sporting activities and change high school hours to prevent crowding, according to officials in his government who asked not to be identified.
Conte is set to announce his plans on Sunday, the people said. Italy's coalition is divided over the new restrictions.
Czech Republic Reports Weekend Surge (3:33 p.m. HK)
The Czech Republic recorded 8,713 new coronavirus cases, the highest number ever reported during the weekend since the pandemic began. It's almost double of what was reported last Saturday. There is less testing on weekends. The total death toll rose to 1,352 on Saturday, making the country the worst-hit in Europe when adjusted for population.
Wales May Announce Lockdown Measures (2:45 p.m. HK)
Wales could go into a lockdown starting next Friday 6 p.m. London time, the Confederation of Passenger Transport said in a letter to its members. All but essential retail would have to close. The Welsh government may announce the measures on Monday, it said. A Welsh government spokesperson told Sky that "no decisions have been made."
Belgium's Incident Rate Jumps (2:15 p.m. HK)
The country reported a rising 14-day Covid-19 incident rate, 691 per 100,000, even as new cases grew less than in recent days. The government has boosted measures to battle the virus, introducing a night curfew and ordering all restaurants to close from Monday.
India's Virus Fatalities Approach 115,000 (12:45 p.m. HK)
India reported 61,871 new cases in a day, while deaths reached 114,031, the third highest in the world.
Prime Minister Narendra Modi asked officials to prepare for speedy distribution of a Covid-19 vaccine when it becomes available.
Pelosi, Mnuchin Stimulus Talks (12:15 p.m. HK)
The U.S. pair spoke for an hour and 15 minutes on coronavirus stimulus, and have agreed to talk again Monday, Treasury spokeswoman Monica Crowley said in a tweet. Their staffs will keep discussions going in the meantime.
Before those talks, Majority Leader Mitch McConnell announced that the Senate will vote on Republican proposals for a roughly $500 billion economic recovery bill and additional funding to aid small businesses, starting Tuesday.
Trump Pushes to Lift Restrictions in Michigan (10:30 a.m. HK)
"You got to get your governor to open up your state," Trump said at a rally in Muskegon, Michigan, referring to Gretchen Whitmer, who was recently a target of a kidnap plot by a right-wing militia. The crowd responded with a "lock her up" chant, to which Trump replied "lock 'em all up."
Whitmer responded in a tweet saying, "This is exactly the rhetoric that has put me, my family, and other government officials' lives in danger while we try to save the lives of our fellow Americans. It needs to stop."
Trump also held rallies in Wisconsin. Many aides, recently diagnosed with Covid-19 and now recovered, joined him on Air Force One, including White House advisers Hope Hicks and Stephen Miller.
New Zealand's First Community Case in Three Weeks (8:48 a.m. HK)
An Auckland man tested positive for the virus Saturday, Director-General of Health Ashley Bloomfield. People the man had contact with when he may have been infectious have been placed in isolation.
News of the fresh community case comes hours after Prime Minister Jacinda Ardern swept to a landslide victory in a general election, largely on the back of her government's successful response to the pandemic.
Australia's Victoria Eases Lockdown as Cases Decline (8:42 a.m. HK)
From midnight, the 5 million residents of Victoria state capital Melbourne, who have been under lockdown for more than 100 days, will be allowed to travel as far as 25 kilometers (16 miles) from their homes, and time limits on daily exercise will be scrapped, state Premier Daniel Andrews said.
The stay-at-home order will be completely lifted and retail and hospitality sectors will largely reopen starting Nov. 1. That time frame may be brought forward if case numbers continue to fall.
— With assistance by Marthe Fourcade, Tommaso Ebhardt, Dara Doyle, Jonathan Levin, Radoslav Tomek, Ed Johnson, Tracy Withers, Natalie Lung, Ditas B Lopez, Katharina Rosskopf, Phil Serafino, Karin Matussek, Aine Quinn, Boris Groendahl, Benjamin Stupples, and Hugo Miller