Graham "Polly'' Farmer changed the game of Australian rules football, as much as any player, via pioneering use of handball. Now, Farmer is poised to dramatically change the concussion discussion in the AFL and the sport he mastered over 356 senior games.
Farmer's diagnosis with chronic traumatic encephalopathy (CTE) is the single biggest event since concussion and head injuries became a major issue for the AFL over the past decade.
The presence of CTE has never been detected in any Australian rules footballer - at any level - until the study, led by Michael Buckland, found that Polly's brain had what it called "severe'' stage three CTE, which is associated with early onset dementia.
Farmer's enormous stature in the game, as an official AFL Legend and one of the greatest players to play (Geelong, East and West Perth), makes the ripples from the CTE finding far more widespread and consequential than if it had a minor league footballer or country player from the 1960s or '70s who'd been found with CTE - the condition that forced the US' NFL to a mass settlement with its players.
Polly's struggles with Alzheimer's disease, which he had for more than 20 years, will be henceforth linked directly in our minds to the brain injury that will be presumed to have been caused by playing footy - and copping hits to the head - over his long and stunning career.
So, the AFL will have the issue more seriously than ever in public forums, while we may see more aggressive attempts to pursue compensation payments by retired players. The most interesting aspect of the Farmer finding is that it goes so far back in footy's past - he was 84 when he died last year.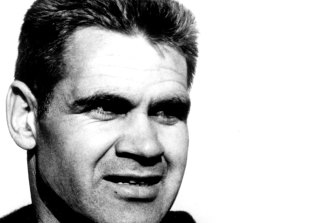 It should be noted that "concussion'' isn't necessarily the reason for athletes experiencing CTE; research in the US has found that an accumulating sub-concussive hits to the head - a larger number of small hits - is associated with CTE.
The Farmer finding coincides with a number of overlapping events involving AFL footballers and concussion that have ramped up the issue, and an emerging player welfare/compensation system takes shape behind the scenes.
There's the preparation of a prospective concussion-based law suit, orchestrated by player agent provocateur and concussion advocate Peter Jess, with ex-players such as Shaun Smith, John Barnes and John Platten. Smith, whose story comes across as the most traumatic and troubling (having aired his mental health issues), has already received an early superannuation payout related to his issues.
Then's there's the highly exposed story of Paddy McCartin, St Kilda's 2014 pick No.1 in the draft, whose career was literally knocked out by multiple concussions, to the point that he's stepped away from the game.
Ex-Collingwood and Brisbane Lion defender Jack Frost recounted to The Age in 2018 how his personality changed following his 14th career concussion that year, how he struggled to respond to information and became "really short-tempered".
Most worrisome perhaps to the AFL is the relatively high concussion rate in AFLW, which has been such a force for galvanising participation by women at the grassroots level; there's a need for research into the high rate of head knocks that the women players suffer.
Farmer's finding has happened amid a kind of scientific culture war that pits one group - alarmists or truth tellers, depending on one's perspective - who believe the head injury impact on players is significant and endemic with others who tend to talk down the extent of proven long-term health problems. The former camp, which obviously wants players compensated, think of their opponents as denialists.
Farmer's CTE has struck a blow, so to speak, for those who've argued that footy, like other contact sports, has a case to answer.