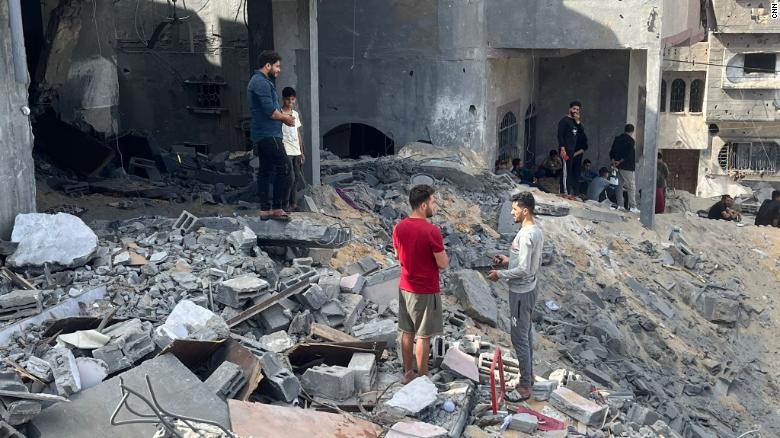 (CNN)[Breaking news update, published at 2:18 p.m. ET]
A ceasefire has been agreed between Israel and Palestinian Islamic Jihad, according to Egyptian diplomats in Gaza.
The ceasefire will take effect at 10 p.m. local time (3 p.m. ET), the Egyptian commission in Gaza said.
Israel did not immediately comment on the reported ceasefire.
[Original story, published at 1:13 p.m. ET]
A rocket launched from Gaza killed a Palestinian man working in Israel and seriously wounded another, Israel medical authorities said Saturday, as cross-border fire showed little signs of easing.
The two men were working in the Negev desert in southern Israel and were hit by shrapnel.
Israel Defense Forces spokesman Lt. Col. Richard Hecht tweeted Saturday that the two men are brothers..
The Palestinian man who died is the second death in Israel due to rocket fire from Gaza since hostilities broke out on Tuesday morning. The fighting has claimed at least 33 Palestinians in Gaza.
The incident came as Israel's military pounded targets in Gaza Saturday while Palestinian militants fired more rockets.
The Israel Defense Forces (IDF) said it launched a series of attacks on sites which it said belong to Islamic Jihad in the Gaza Strip.
Israel accuses the group of planning attacks and since the flare-up began on Tuesday has killed six of its commanders. Islamic Jihad is the second largest armed group in Gaza after Hamas.
More than 1,000 rockets have been launched so far at Israel, the IDF says, who have struck more than 250 targets in Gaza as part of its "Shield and Arrow" campaign, now in its fifth day.
Videos from Gaza showed that the airstrikes appeared to have also hit at least two civilian homes in the northern Gaza Strip on Saturday, but no injuries were reported.
Asked about the latest strikes by CNN, the IDF said that in the last 24 hours, they struck operational residences used as headquarters and command and control centers by the Jihad terrorists.
In its statement, the military said IDF fighter jets and aircraft struck launching sites for mortar shells and rockets "used by Islamic Jihad to fire projectiles toward Israel over the last few days."
Sirens sounded in areas of Israel near the region on Saturday, as Palestinian Islamic Jihad continues to fire rockets.
Two Palestinian men killed in West Bank
Clashes also took place on Saturday morning in the occupied West Bank and at least two Palestinian men were killed, Palestinian officials said.
Sa'ed Jihad Shaker Mashah, 32, and Adnan Waseem Yousef Al-Araj, 19, were shot in the head with live bullets, the Palestinian Ministry of Health said. At least three other people were injured, the ministry said.
The clash took place in the Balata refugee camp near Nablus in the northern part of the West Bank.
The Israel Defense Forces (IDF) and Shin Bet security agency said IDF and Israel Border Police forces were raiding "a hideout belonging to terror operatives" in the camp.
On Friday, at the beginning of an operation the al Quds Brigades of Islamic Jihad called "Revenge of the Free," Palestinian militants launched rockets towards Jerusalem for the first time, as well as Tel Aviv and Israeli settlements in the occupied West Bank.
Talks to bring about a ceasefire between the warring groups are "on ice right now," a diplomatic source familiar with the negotiations told CNN on Friday.